Congratulations to the West Coast All Stars!

Your submission into the Scotiabank Hockey Tonight Kids Contest has been selected for the second round! As such, a CBC Hockey Night In Canada crew will come out to film your  Team. The West Coast All Stars team will be shown on Scotiabank Hockey Tonight pregame show on Dec 5th 2009. Our  Hockey Night in Canada sportsdepartment would like to schedule shoots as early as next week.

Thank you very much and congratulations!

Sincerely,

CBC Promo Team

Television, Brand Activation

Sports Marketing Coordinator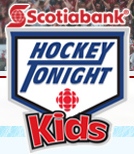 South Delta Leader Paper Feature and Video....